ELEGANCE - LUXURY - PERFORMANCE
lift your project off the ground!
CURRENT PRODUCTS
AIR FORM currently has two standard models of HOVERCRAFT-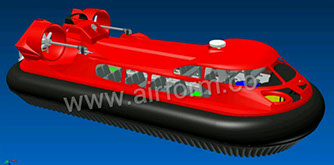 In addition to complete turnkey Hovercraft, AIR FORM can also supply
LIFT FANS
PROPELLERS
modular THRUST SYSTEMS
SKIRT SYSTEMS
* use AIR FORM components & systems to update an existing Hovercraft. Who knows, you may wish to custom design & build your own Hovercraft using modern Technology,
by AIR FORM.
FUTURE PRODUCTS
AIR FORM is currently in the design process of a 6 passenger craft, the "AF6", which will be aimed towards the pleasure/recreation market. This model features design cues of it's larger sisters with impressive performance; from it's optional 300hp turbo diesel engine.
AIR FORM has preliminary designs for other models not covered here within...
"AF12" ...a compact 12 passenger craft
"AF20-LC" ...a 2 tonne (4,409 lbs) payload landing craft
"AF24" ...a modern twin diesel 24 passenger craft, with a head (toilet)
If you're planning a startup or have a logistics challenge? AIR FORM has you covered! Send us an email with your specifications and let AIR FORM lift your project off the ground!
Models ranging from 6 to 46 passengers
PROPELLERS | LIFT FANS | SKIRT SYSTEMS | CUSTOM STYLING